Precision Manufacturing of TPON Solar Water Pump Components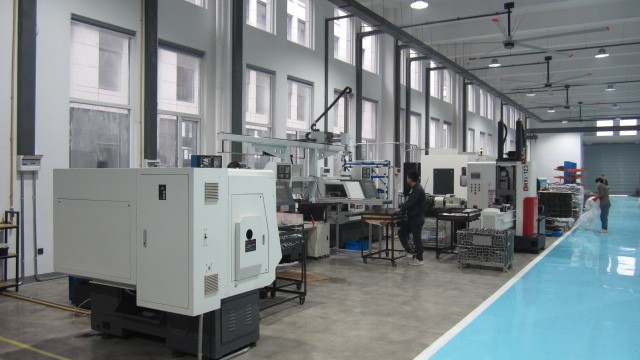 In
TPON's solar water pump factory
, we are committed to manufacturing high-quality solar water pumps, and this commitment begins with the precision manufacturing of components.
Precision Machining of Oil Cylinders
The oil cylinder in a solar water pump is a critical component responsible for fluid transmission. In our
precision machining workshop
, we employ advanced machinery to precisely manufacture oil cylinders, including external shaping, internal bore machining, and thread creation. Each oil cylinder undergoes stringent quality control to ensure it is leak-free, smooth, and flawless, guaranteeing the reliability and performance of the water pump.
Manufacturing of Connectors
Connectors play a vital role in connecting and supporting components within a solar water pump. In our precision machining workshop, experienced technicians are responsible for machining various connectors, ensuring their accuracy and quality. We pay attention to every detail to ensure that connectors fit perfectly, ensuring the sustainable operation of the water pump.
Precision Machining of Outlets
Outlets are the crucial exit points of a solar water pump and must have excellent sealing and durability. In our workshop, we use high-precision machinery for precision machining to ensure the quality of each outlet port. We strictly adhere to engineering specifications to ensure that outlets fully comply with design requirements.
Production of Rotor Shafts
The rotor shaft is the heart of a solar water pump and requires rigorous precision manufacturing. Our craftsmen use high-precision lathes and grinders to create smooth surfaces and precise dimensions. The precision manufacturing of rotor shafts directly impacts the efficiency and reliability of the water pump, and we maintain high standards in every step.
At TPON, we understand the critical importance of component quality for the performance of solar water pumps. Our precision machining workshop follows strict production processes to ensure that every component undergoes precision manufacturing and quality control. We are committed to providing customers with high-performance, reliable, and durable solar water pumps to meet their needs.
In summary, our precision machining workshop is a crucial part of manufacturing high-quality solar water pumps. Whether it's oil cylinders, connectors, outlets, or rotor shafts, each component undergoes precision machining to ensure outstanding performance and reliability. We strive for excellence in every step to meet customer expectations and support sustainable
solar water pumps
.