WHERE SOLAR WATER PUMP SYSTEM CAN WORK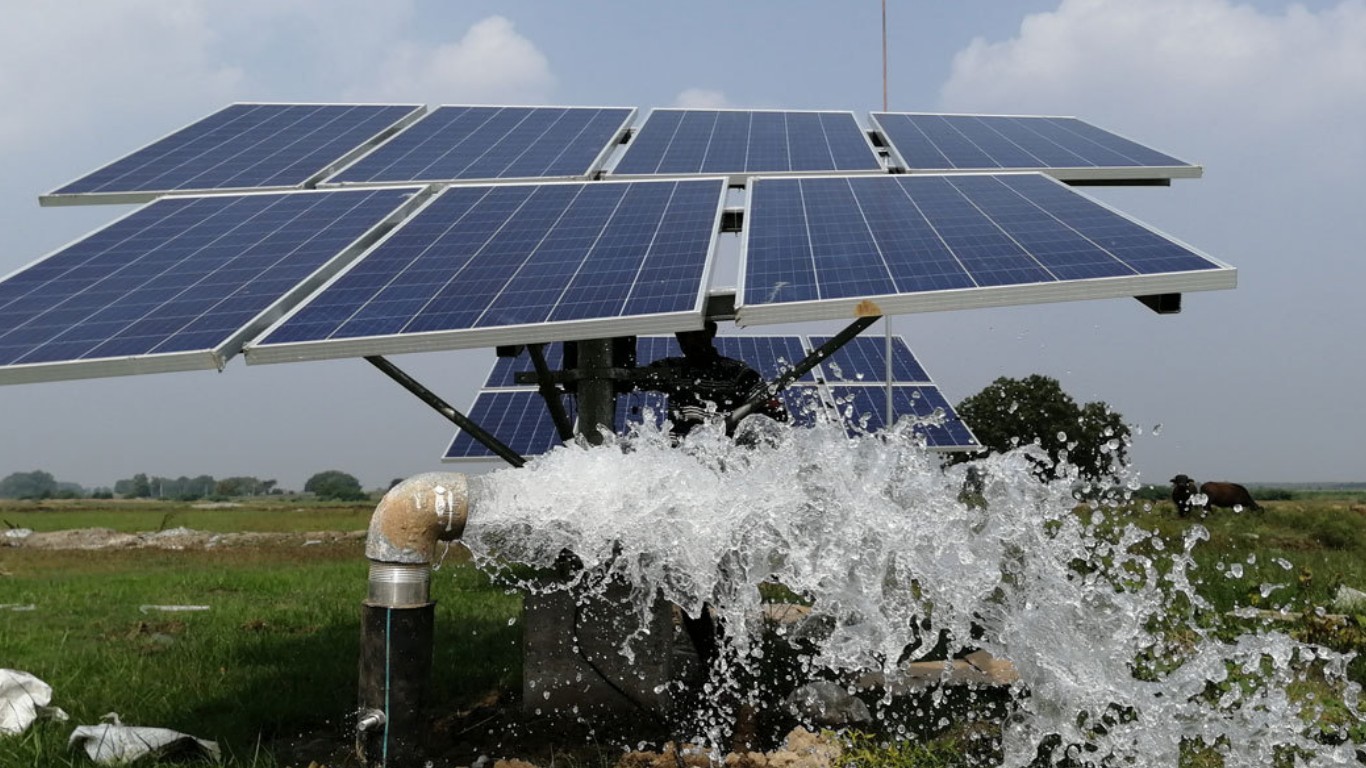 WHERE SOLAR WATER PUMP SYSTEM CAN WORK
Everywhere in the world with sufficient solar insolation can use solar water pumps. They are best suited for rural, off-grid locations where installing the grid would be too expensive. They are therefore the ideal choice for the majority of South America, South Asia, Southeast Asia, and Africa. All of these areas have strong solar insolation and poor grid connectivity. Yet, practically everywhere on Earth that is habitable can have a solar water pump system built.
Providing water to a home is one of the solar water pump's most fundamental functions. They can be utilized to supply water in far-flung hospitals, communities, private residences, and more.
Water can be pumped using the solar pump to an elevated water storage tank.
A solar-powered water pump can be used to supply livestock with water in addition to providing water for a home. Cattle ranches in Australia, the Americas, and southern Africa may find it to be a particularly helpful option. Water can be continuously pumped to watering spots that are strategically placed rather of having to be accessed by transporting cattle great distances. In these areas, solar water pumps are already widely employed to move water through up to 5 kilometers of pipelines.
Small-scale farms, vineyards, and gardens can all be watered with solar water pumps. For a small garden, pumping water straight to a gravity tank and then distributing it via gravity flow is the most cost-effective setup.
The size of solar pumps is not constrained. Yet, it is frequently the case that using them in tiny installations, where using fossil fuel systems would not make sense, is most cost-effective. Some of the smallest solar water pumps may operate on 150W of PV and pump water at a rate of more than 5 liters per minute from depths of up to 200 feet.
Such a mechanism is capable of lifting up to 3400 liters of water over a 10-hour sunny day. This is sufficient to water a few tiny families, a small herd of cattle, or a small orchard. If you simply require little water flowers, these are often from DC solar pump systems. Since AC solar pump systems have larger water flowers to satisfy different water demands and have more consistent performance, they are more widely used.
WHAT ARE THE ADVANTAGES OF SOLAR PUMP SYSTEM?
Using low-yield water sources is one of the advantages of employing a solar pump system. It may be cheaper to build long pipelines if you use a sluggish solar pumping technology. The energy required to pump water is unaffected by the length of the pipelines, hence water can be moved over great distances at a minimal cost.
Using a simple solar pumping system has the additional advantage of not requiring any specific expertise. The straightforward setup instructions for a small solar pump are easy enough for anyone with basic literacy abilities to understand. It is especially helpful in remote locations where it would be difficult to find skilled professionals and equipment.
A solar water pump system is frequently low-maintenance after it is installed. That is a significant benefit for remote locations where it would be difficult to obtain technicians and spare parts. A solar water pumping system can function for many years after installation without requiring any maintenance. As opposed to fossil-fuel powered water pumping systems, which frequently need considerable maintenance over the course of their useful life. Most of the time, cleaning dust and debris off of the solar panels is all that is required to maintain a solar water pump system.
IS IT WORTH FOR FARMERS TO INVEST SOLAR WATER PUMPING SYSTEM?
The hefty upfront cost of building a solar water pumping system is one aspect that can deter farmers. Nonetheless, it is worthwhile when you consider the advantages they will experience. A solar water pump, for instance, doesn't release dangerous contaminants that wind up in the soil and crops. And it makes growing a strong harvest easier for farmers.
Also, building a solar-powered water pump system has a good Return On Investment (ROI). In most regions of the world, a farmer may often recover their investment in within three to five years.
In addition, a solar water pump enables farmers to mitigate climate change. Agriculture will be among the industries most impacted by climate change. This is due to the frequent impact of unpredictable weather patterns on crop yield. Farmers can contribute positively to the fight against climate change and safeguard the livelihood of present and upcoming generations of farmers.
Tel/WhatsApp:+86 13336616249