TPON solar powered water pumps can easily solve the problem of drinking water for livestock in pastures.
Aiming at the problems of animal husbandry, where the water source is relatively shallow, the cattle and sheep need less water, and the herders' economic investment is limited, TPON solar powered pump has launched a photovoltaic DC pumping solution, which greatly solves the problem of pastoral herders' cattle and sheep drinking water.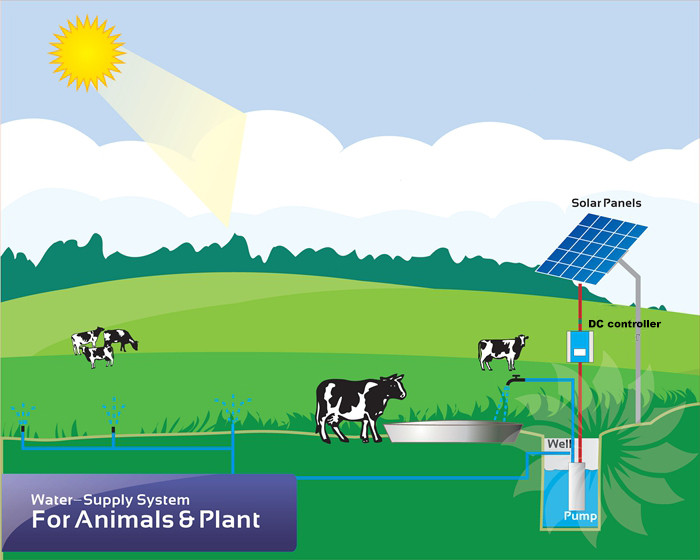 Advantage of Solar powered water supply for livestock:

The solar pumping system for livestock & plant is mainly composed of a pump, the DC controller, PV modules, and a water pool. Once the sunlight is available, the system will automatically pump water from the borehole to the pools, which will enable a sustainable water supply for animals and plants. To be extended, the system is also applicable to anti-desertification and vegetation restoration.No mains power, diesel generator, or battery will be required. The system is fully automatic, free of maintenance, and environmentally friendly.
Solar powered water supply for livestock Suitable for: pasture, forest, grassland, livestock farm, barren mountains, and deserts, etc.
Ningbo Guanghan Solar Pump Industry is a factory specialized in manufacturing solar submersible pumps and solar surface pumps. The head office was established in 1989 in Daxi Town, Wenling City, the hometown of water pumps in China, and a branch factory was established in Jiangshan Town, Ningbo City in 2019. It is located near the highway intersection, very close to Ningbo Port and Shanghai Port, and the transportation is very convenient.
In order to control the product quality and reduce the cost price, we will bring the most cost-effective and competitive solar water pump to our customers. The important parts of the solar powered water pump are all manufactured and processed by our factory. The workshop is equipped with fully automatic winding machines, finishing equipment, advanced assembly lines, and precise testing machines. Each solar powered well pump will undergo rigorous testing before leaving the factory to ensure product quality. We have obtained ISO9001 certificate and CE certificate, and we produce pumps in strict accordance with their standards. Our R&D team has the courage to innovate, the product models are diversified and closely follow the industry trend, the service is perfect, and the sales channels are extensive; the products are exported to Southeast Asia, Africa, South America, Australia, the Middle East and other countries.
Every month, we export at least 15500 pcs of solar powered water pumps all over the world, and got countless buyer praise. TPON solar well pump never stop the steps to improve and innovate our solar pumps to reach the different market requirements.